Our company is built upon a solid foundation of years of Technical Expertise. We take pride in being one of the most affordable, professional and reliable residential and commercial Air Conditioning Repair, Service, Replace, and Installation.
Experienced Professional Technicians
Our technicians are trained to provide professional, reliable service. We are able to find and fix problems the first time and ensure that our new Air Conditioning systems are properly sized to provide maximum comfort for your family.
Whether you are needing residential or commercial Air Conditioning Repair, Service, installation, replacement, or looking to improve the comfort of your home or are in the market for a new Air Conditioning system, we can help.
We service all Brands and Models.
Areas Served
Spring TX, Houston TX, Humble TX, Kingwood TX, Woodland TX, Tomball TX,
Business Details
Website: kacexpress.com
Servicing residential and commercial clients
Insured
Social Network Profiles
Visit Our Website
Contact Us
Write a Review
| | |
| --- | --- |
| AIR CONDITIONING SERVICE AND REPAIR Be careful who performs your air conditioning repairs. We treat your home with respect. We use drop cloths and booties inside your home so after every air conditioning repair, your home looks exactly the same as when we arrived. When you need air conditioning service, we provide it. We do our best to fix and repair your air conditioner, rather than trying to sell you a new air conditioner, like many air conditioning contractors. AIR CONDITIONER INSTALLATION KAC Express will help you select the best air conditioner for your budget. Bigger is not always better. At KAC Express we will analyze your home to ensure that the right size air conditioner is selected for optimum cooling and comfort. Our company has a wide range of experience with many different brands of air conditioners. | |
| | |
| --- | --- |
| Most issues with AC systems are the result of either poor design or improper installation. These issues can plague a building owner for years, which is why it is so critical to get the job done right the first time. We have experience working with local home builders to ensure that you system will provide home comfort both now and in the future! AIR CONDITIONING SYSTEM DESIGN With new construction, KAC Express works alongside the building architect and engineer to ensure that the air conditioning system is properly designed. We understand that there are many factors that influence the design of the air conditioning system – windows, attic, insulation levels, etc. By working with the engineers and architects from the beginning, our air conditioning systems are properly designed and sized to provide maximum comfort. We understand they have a schedule to meet and we know how to work with them to balance the builder's project timeline along with our high standards for air conditioning installation. No job will be rushed. No corners will be cut. | |
Hi Trung, It was pleasure to work with you. As you know the property has been sold & we closed on 3/24/11. I gave warranty book the new owner & asked him to fill in & sent the warranty card. You were very professional & worked with me. Thanks for all your help.
KAC EXPRESS is the only HVAC company I have ever used. We had a problem with our cooling and they arrived at our house on time as promised. Their staff is well trained and was quick to get the job done at a reasonable price. Thanks a lot.
We placed an emergency call on a Saturday afternoon with a lot of guests in the house. The technician came and repaired it in the next 2 hours. Outstanding workmanship and professional.
Trung was quick to respond on a Saturday morning. My A/C went out during the night and I woke up to sweating at 4am. I called KAC Express at 6:30am and he was there by 7:15am. He quickly determined the problem and fixed it in under an hour. I can say without a doubt that his service was excellent and would recommed KAC Express to anyone needing A/C help.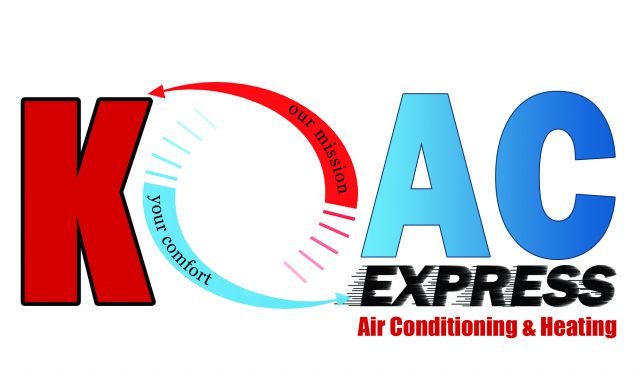 Our Company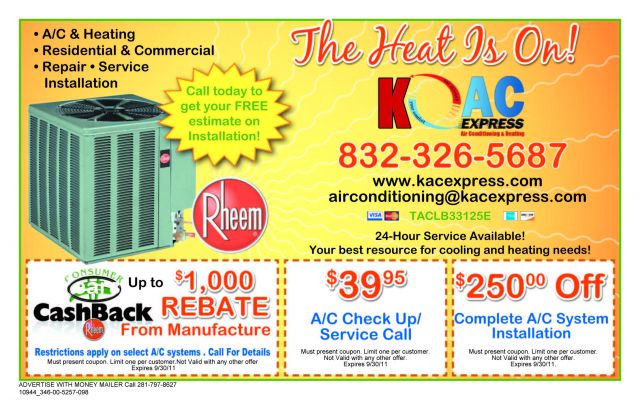 Our Coupon